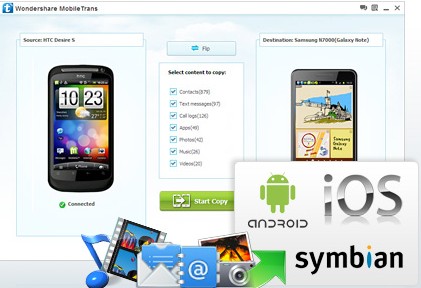 Phone to Phone Transfer is an easy-to-use tool with which you are capable of copying your data, namely, contacts, SMS, call logs, photos, music, videos and apps between Symbian, Android, BlackBerry and iOS without any data loss.






Below is the detailed steps about how to use MobileTrans to transfer data from a phone to another. First of all, download and install it on your computer.

Transfer Content between iOS, Android and Nokia Symbian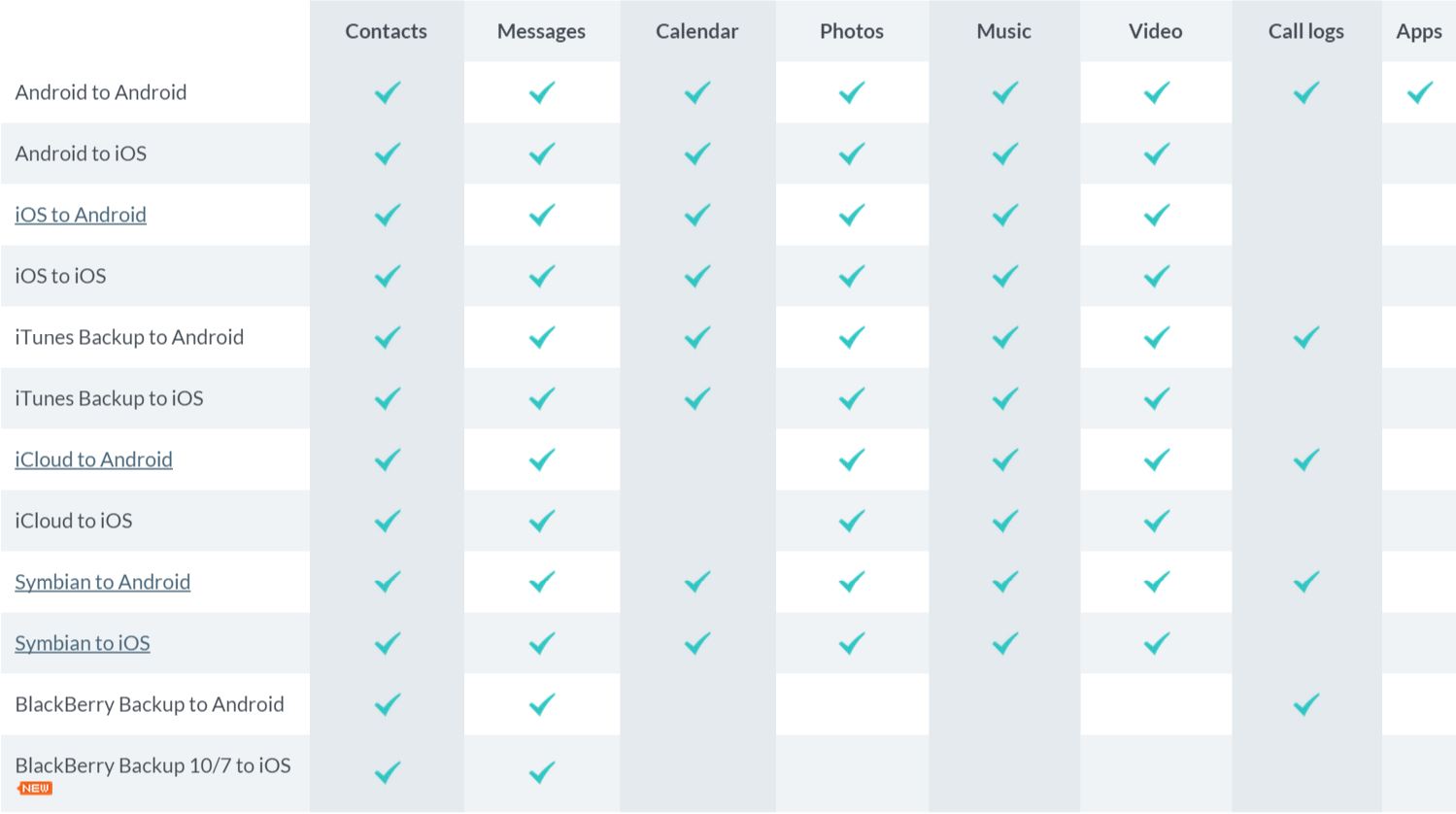 The MobileTransfer includes several features :"Phone to Phone Transfer", "Back Up Your Phone to computer", "Erase Your Old Phone Data" and "Restore Data from Backup File". If you want to transfer data from phone to phone,please select select the mode: "Phone to Phone Transfer"


The main interface of MobileTransfer-Phone to Phone Transfer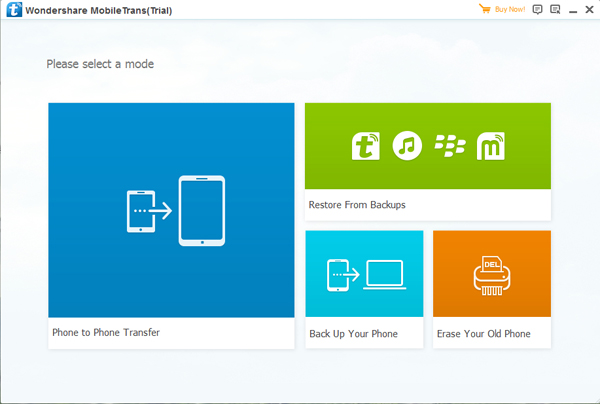 Part 1: Transfer between iPhone,Android,BlackBerry and Nokia

Step1: Connect Two of Your Devices to Computer

To start with, connect two devices (they can be Android, Symbian or iOS devices) to your computer via USB cables. When your devices are connected and detected by your computer, run Wondershare MobileTrans, and you'll get a window as follow.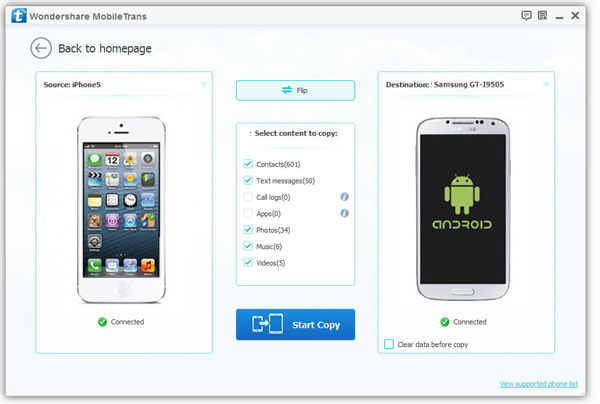 Note: Here take Android phones for example.

The names of your devices will be displayed in the places of "Source" and "Destination". You can click the blue button "Flip" between the two phones when you decide to change the places of the two devices.

Step 2: Start to Transfer Data from One Phone to Another

Now, data on your source phone that can be transferred are listed in the middle, such as contacts, photos, messages, etc. You only need to mark those you're going to move to another phone and click "Start Copy". Then they can be fully copied to your destination phone.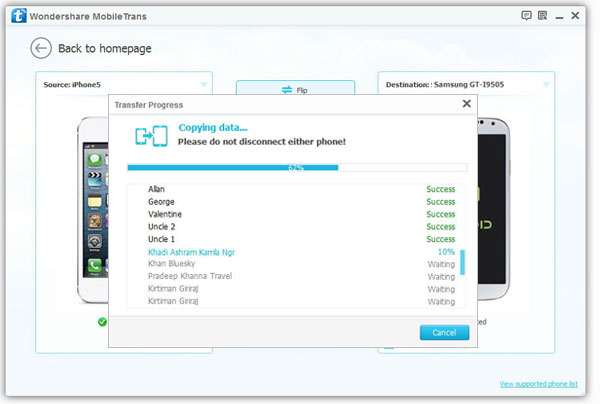 If you need to empty your destination phone before the transfer, tick off the bar "Clear data before copy" under the destination phone picture.

Be sure neither of your phones disconnects during the whole progress. When transfer progress is completed, please hit the button "Completed".






Note: The steps about other phones' data transfers, like transfer data from Symbian/iOS to Android, from Symbian/iOS/Android to Symbian, or from Android/iOS/Symbian to iOS are quite similar. You need to install iTunes on your PC, if you intend to transfer data from or to iOS.

Part 2: Backup Data from Mobile Phone to Computer

Backup data from iOS iPhone, Android, or Nokia phone to computer with Phone to Phone Transfer.
First of all,please run the Phone to Phone Transfer on you computer,then connected to the mobile phone to computer via a USB cable.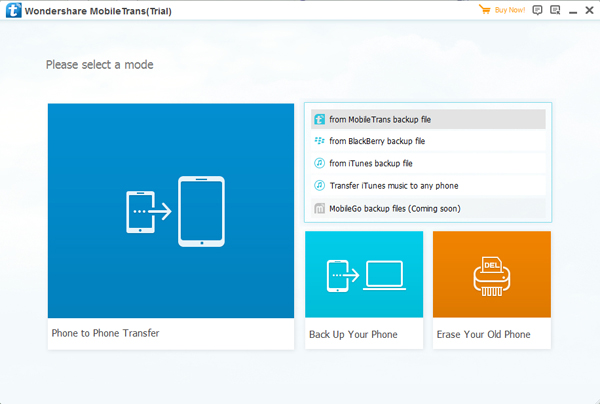 Scan your phone's data with phone to phone transfer,then select the Backup option in the Home Menu to bring up the Backup Panel. Once you check all the data that you wish to backup, click "Start Copy", and the mobile phone transfer will start to back up those selected contents on your phone to the computer,including contacts, text messages, photos, videos, ect.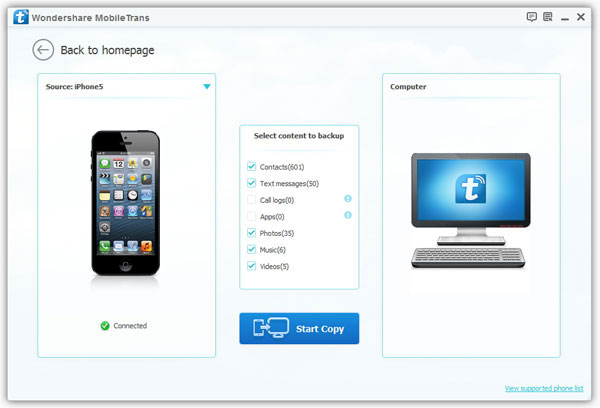 Restore Phone from the Saved Backup

The Phone to Phone Transfer can help you restore data from backup file: " Restore from MobileTrans backup file", "Restore from BlackBerry backup file" if you use BlackBerry backup file; "Restore iPhone data from iTunes backup file" or "Transfer music from iTunes to any phone",you can transfer music from iTunes to iPhone, Android phone, Nokia phone, Blackberry mobile phone,ect.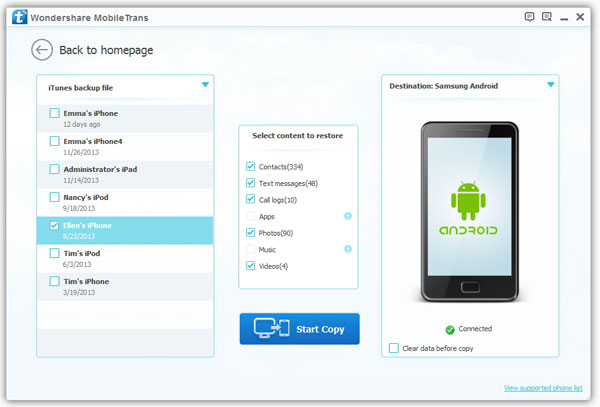 Phone to Phone Transfer now supports retrieving iTunes backups and the backups created by BlackBerry® Desktop Software.

Note: Support only BlackBerry® Desktop Software V7.0, V7.1. and BlackBerry phones that are running on OS 7.1 and easier versions.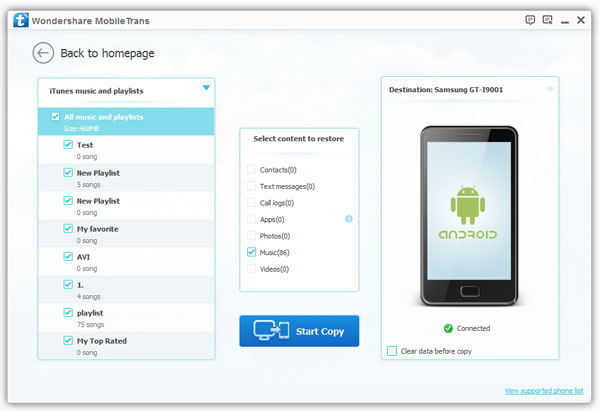 Now, this Mobile Phone Transfer also empowers you to transfer iTunes playlists to your Android phone as well as iDevice effortlessly.






Part 3: Permanently Erase All Data from Your iPhone/iPad/iPod touch:

First of all,please connect iPhone, iPad or iPod Touch on your Windows PC. Take out a USB cable to connect your iPhone to this Windows PC. When the primary
window appears, click "Permanently Erase Your Old Phone: This brings up the data erasing everything on your ios devices.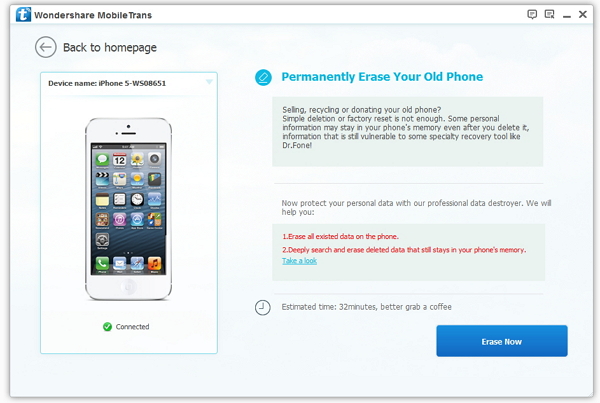 Step 2. Start to Erase All Data from Your iPhone/iPad/iPod touch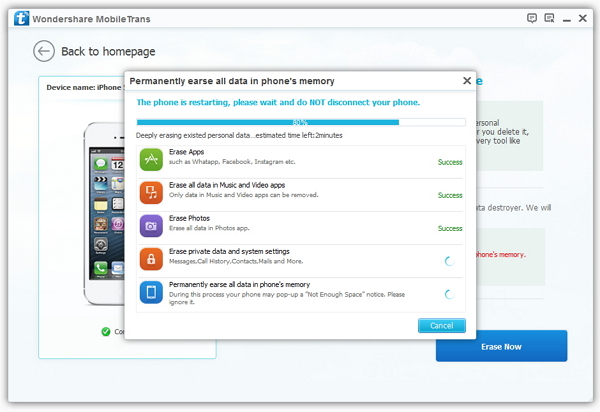 Go to the lower-right corner and click Erase Now. A dialog comes out. Read the tips and enter "delete" in the box. Then, click Start to wipe all data from your old iPhone/iPad/iPod touch.

Tips: Before selling your ios devices or gift it to other,pleaser remember erase everything from your iPhone, iPad and iPod Touch with a third-part iOS Data Eraser tool.