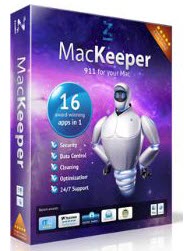 45.95
Price:

$39.95
SpeedUp Optimizer for Mac
MacKeeper: Speed up your Mac system and Optimize your slow Mac,and Keeps your Mac clean;Deletes applications permanently! MacKeeper is a 16-in-1 Mac Speed up/Accelerate software and Optimization software which suite to free disk space and enhance Mac OS X performance.

MacKeeper is an immensely useful and powerful application that optimizes your Mac performance by cleaning large files, duplicate files, universal binary files, cache & temporary files, language files and other unneeded data. Also it has an uninstaller to remove all traces of applications that you want to remove from your Mac machine. With 16 small utilities (Fast Cleanup, Duplicates Finder, Smart Uninstaller etc) listed on the main interface, even amateurs can perform Mac clean and speed Mac up.

1.Fully compatible with the Mac OS X 10.5; OS X 10.8 Mountain Lion or later.


2.Enhance the performance of Macintosh main hard drive.
3.Remove & uninstall unwanted Applications, Files, Caches, Logs, Widgets, Plug-ins, System Junks etc by just 'Drag and Drop' operation.
4.Preview of Photos, Music and Video files before cleaning Mac system.
5.Work both on boot volume as well as secondary Mac volumes.
6.Scheduler to perform tasks at a specified time.


For Windows: SpeedyPC Pro




Key Features
Easy-of-Use User Interface

The Mac speed up software provides clear and complete set of options to free disk space and enhance system performance safely.

Quick Preview Function before Removing Files

Filters Help Refine Searching Unwanted Items

Automatic Cleaning of Removable Devices

Uninstall by Drag & Drop

Perform Automate Tasks with Scheduler

Tune up Mac Efficiently

Speed up your Mac system by removing unwanted Caches (User Cache, System Cache, iOS Photo Cache), Logs (User Logs, System Logs) and Files (System Junks, Universal Binaries, Trashes, Leftovers, Duplicate Files, Language Files, Large unused Files). It also frees up disk space and manages Extensions, running in the background to optimize system performance significantly.

SpeedUp Mac and Optimizer for Mac Screenshots


MacKeeper is a 16-in-1 Mac Speed up software and Optimization software which suite to free disk space and enhance Mac OS X performance.MacKeeper 16 small utilities (Fast Cleanup, Duplicates Finder, Smart Uninstaller etc) listed on the main interface, even amateurs can perform Mac clean and speed Mac up.



Cleaning your Mac with Fast Cleanup -->



Deleting file copies with Duplicates Finder -->



Analyzing disk space with Disk Usage -->



Removing Mac apps with Smart Uninstaller -->





Related Articles