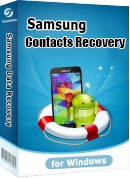 59.95
Price:

$49.95
Samsung Contacts Recovery
The world's first contacts recovery for Samsung users to recover lost or deleted contacts from Samsung devices, especially Samsung Galaxy phone

Samsung Contacts Recovery helps you scan and recover deleted or lost contacts from Samsung Galaxy S6/S5/S4/S3/Note 5/Note 4/Note 3/Note 2, Samsung Galaxy A8/A7/A6/A5 and any other Samsung smart phone in the fastest and easiest way. It is a poweful and useful tool to restore Samsung lost or deleted contacts, which is due to factory resetting, Rom flashing, Android OS error for software update, rooting and other unknown reasons.



Directly recover deleted contacts from Samsung phones without a backup file.


Scan, extract and save all contacts to computer from Samsung, including names, company, job title, email address, and export in HTML, vCard and CSV to PC.


Restore Samsung contacts lost due to mistaken deletion, resetting device back to the factory default settings or breaking your device suddenly.


Recover Contacts from Broken Android: directly extract and recover deleted contacts from broken Samsung mobile phones.


Recover text messages, photos, videos, music, whatsapp messages and others documents from Samsung phone.


Retrieve contacts from Samsung, HTC, LG, Sony, Motorola or other Android smart phones.

Supports: Windows 9/8/Windows 7/Vista/XP



For Mac: Samsung Contacts Recovery(Mac)



Use Guides&Screenshoots



Key Features
Recover Deleted Phone Numbers from Samsung Galaxy Directly

Scan and Restore Contacts from Samsung Galaxy S6/ S6 Edge, Samsung Galaxy S5, Samsung Galaxy S4, Samsung Galaxy Note 4/Note 5, Samsung Galaxy Note Edge, Samsung Galaxy Note 2, Samsung Galaxy Ace, Samsung Galaxy Y, Samsung Epic, Samsung Galaxy Grand, etc.

Retrieve Samsung Lost Contacts Completely Only 1 click

Extract lost contacts directly from your Samsung Galaxy phone,no matter lost due to any reason.

Recover SMS,Photos,Videos Files from Samsung Phone

Not only allows you recover contacts from Samsung,but also can help you restore text messages, whatsApp, photos, videos, audios and other Samsung documents directly

Get Back Contacts from All Android Phone

Not only supports restore deleted contacts from Samsung mobile phone,but also can help users get back contacts from HTC, LG, Sony, Motorola or other Android smart phones directly

Restore Lost or Deleted Contacts from Your Samsung Phone
Samsung Contacts Recovery program allows you to scan your Samsung phone and restore lost/deleted contacts from your Samsung Galaxy moible phone directly, it allows you get back lost names, company, job title, email address from Samsung, then export in HTML, vCard and CSV format,and save on your computer. It's a completely safe, reliable and easy to use Samsung Data Recovery program for users to retrieve picture, text messages, whatsapp messages and video,as well.

Below are the download buttons of Samsung Contacts Recovery both for Mac and Windows version:



Only Three Steps to Get Lost or Deleted Contacts Back from Samsung Phone:



Easily Recover Samsung Contacts under any Situations:

You can recover your Samsung contacts, phone numbers lost under any conditions with this useful utility, such as:

-Accidentally deleted contacts on Samsung Galaxy phone by mistake
-During transferring data and USB disconnected
-Failed formatting or reseting to factory settings
-Fail rooting your Samsung
-OS error for software update
-mistaken deletion
-Lost contacts due to breaking your Samsung phone suddenly

Retrieve Deleted Contacts from Samsung Mobile Phone Directly:

Tips: Once you delete/lost contacts on Samsung phone by mistake, you should stop adding,editing or transferring contacts then,and stop using your phone to take photos, send emails and do any other things that will wipe from your phone data unless you add new data to overwrite them. So please keep your Samsung mobile phone intact after deleting contacts, otherwise you may lose them without recovering.

Step 1. Connect Your Samsung phone to Your computer or Macbook

First of all,please download the Samsung Contacts Recovery and run it on your computer. And connect your Samsung Galaxy to PC via USB cable.



Step 2. Enable USB Debugging on Samsung phone

What you need to do next is to enable USB debugging on your device. Choose the right way for your phone among these three options.
1)For Android 5.0 or newer: Tap "Settings" > "About Phone" to tap "Build number" seven times for "You are now a developer!" signal. Then, move to "Settings" > "Developer options" to turn on "USB debugging"
2) For Android 4.2 to 4.4.4: Move to "Settings" > "About Phone" > Tap "Build number" for several times until "You are under developer mode" appears > "Settings" > "Developer options" > Check "USB debugging"
3) For Android 3.0 to 4.1: Enter "Settings" > "Developer options" > Tick "USB debugging"
4) For Android 2.3 or earlier: Go to "Settings" > "Applications" > "Development" > Tick "USB debugging"



Step 3. Begin to Analyze your Samsung phone

When your Samsung phone is successfully detected by the app, you will see the following window. Continue to click "Start" button for scanning your Samsung Galaxy device.



Since it will take a long time to scan all the data of Samusng, you can select the contacts to scan.



Turn to your device's home screen, you will see "allow" button. Click it and come back to app again. Now click "Start" to scan your device.



Step 4. Check and Retrieve Contacts,Phone Numbers from Samsung phone

The scan will cost you a few minutes. Then you will see all the scanned out results listed by the program. Click "contacts" on the left and tick "only display deleted items" for lost phone numbers. Now you can preview and mark those you want to click "recover". All the steps are completed and you need to wait for a moment before the app saves them on your computer.



Free download the Samsung Contacts Recovery tool and have a try!



Well done! You have success restore Samsung lost contacts and save them on your computer. If you want to restore them back to your Samsung phone,this Android Data Manager can help you transfer those lost phone numbers back to your Samsung phone from computer. If you want to recover lost SMS,Photos,Videos, Whatsapp messages, ect from Samsung phone, please follow the same steps above to get lost data back from Samsung with this easy-to-used Samsung Contacts Recovery software.

Related Articles