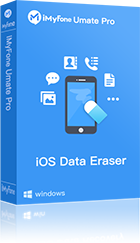 Price:

$49.95
iPhone iPad iPod Data Eraser
Permanently erase content from your iPhone/iPad/iPod, "Clean Slate" Privacy Safeguard for Ultimate Privacy Protection before you resell, donate or trade your ios devices.



Permanently remove all contents from iPhone/iPad/iPod devices: Erase contacts, messages, photos, videos, apps, WhatsApp/Wechat chat history, account info, passwords and other important personal information stored on ios devices.


Meets Mil-spec DOD 5220 – 22 M standard for permanent data erase,so that never recover personal data forever.


Works with all iDevices - Jailbroken iPhone friendly and also compatible with carrier-locked iPhones.


Keep your personal information safe, permanently remove it before selling your old iDevice.


1 click erase junk files and free up space



Supported OS: Windows 10/9/8/Windows 7/Vista/XP



For Mac: iPhone iPad iPod Data Eraser(Mac)



Use Guides&Screenshoots



Key Features
100% Permanent Erasure everything from iPhone, iPad, iPod

Permanently wiping all personal information&data from the ios devices and resetting system setting with just one click. However, there'll be no other data recovery tools that can recover any personal data from the your ios devices.

Eraser Contacts, SMS, Photos, Videos, Apps, Account info, Personal information from iPhone/iPad/iPod Touch

Safely Erase data from your iDevice in 3 different modes

Low (1 pass): erases your iDevice quickly; Medium (2 passes): no one knows the data on your device is erased; High (3 passes): meets the DOD 5220 - 22 M standard

Remember Back up the data before erasing the iDevice

Once SafeEraser eras your ios devices, the erased information and files are unrecoverable,please backup your data to computer before you want to eras your ios devices.

How to Erase Data from your iPhone/iPad/iPod


Delete, Erase, Wipe Personal Data Permanently from your iPhone, iPad, iPod Touch with iPhone iPad iPod Data Eraser. This iOS Data Eraser tool can help you eras all files and personal information from ios devices before your resell, donate or trade your iPhone/iPad/iPod.Next,the tutorial shows you 3 erase modes to erase iPhone data step by step:

Tutorial 1: Erase Private Data from iPhone Permanently

If you want to erase iPhone data under this erase mode, only your personal information will be deleted, which includes Safari Cache, Safari History and so on.

iPhone/iPad/iPod Data Eraser allows you to erase all existing data and deleted files from ios devices with just three simple steps: Connect iPhone/iPad/iPod to computer, scan iPhone for lost and existing data and start wipe data permanently. Dozens of text files and media files are all supported by this iOS Data Eraser software as the below use guides.



First of all,please free download the ios data eraser software:



Step 1. Run the iOS Data Eraser and connect the iPhone to PC

Install and open the software first. The first time you connect the phone to PC, "Trust" on the iPhone screen should be tapped. You should now choose "Erase Private Data" on the left.





Step 2. Scan the to-be-erased Data and Choose Them

Click "Start Scan". Wait until it is finished. It should not be long. And then you will see this interface which has all the detected items in the list. Tick the one that you want.



Note: After finishing scan your iPhone device,you can preview all kinds of files,such as contacts, text messages, photos, videos.ect

Step 3.One Click to Erase Private Data from iPhone permanently

Click "Erase Now" to begin this step and tap "Done" to end it. The process cost you around 20 minutes.



Tutorial 2: Permanently Erase Deleted Files in iPhone

These contents can still be restored. So, for the safety of your data, this mode should be applied.

Step 1. Select "Erase Deleted Files" and Scan

The mode will be chosen. When that is done, press "Start Scan" and wait. Then the files are classified. Except photos all can be previewed. Check the categories that you are to erase.





Step 2. Start to Erase deleted iPhone Data Now

Press "Erase Now" and the window will turn. You can see how far it has gone through the process bar. And press "Done" in the end.



Note: Please do not disconnect the phone because it may be damaged.

Tutorial 3: How to Wipe All iPhone Data Permanently

Please do backup files before you do this, because your phone is going to be like factory-new and nothing will left.

Step 1. Confirm Your Will to Erase All iPhone Data Permanently

Choose "Erase All Data" and enter the word "delete". The intuitive interface prevents you from deleting documents carelessly. No need to change security level. Now we can click the blue button, "Erase Now".



Step 2. Start to wipe everything on your iPhone without restore

In the first run, iPhone Data Eraser will get rid of the apps, music, movies, photos, private data and system settings. And then your iPhone will restart. In the second run, the software will deal with the free space. This will take more time because it actually works through the whole phone. So, be patient or simply get something else to do. And, click "Done" when you come back.





Note: The free version will only do the first run to erase the music and the movies in the apps.



Tips: If you iPhone running very slow,your can use this ios data eraser to erase junk files to speed up the iPhone,iPad.

Related Articles