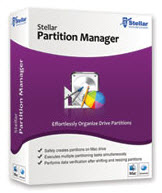 45.95
Price:

$39.95
Mac Partition Manager
Stellar Mac Partition Manager is the most popular partition management utility for Mac OS. Mac Partition Manager can help you manage your Mac partitions and thus will optimize your hard drive performance. Mac Partition Manager is a disk manager tool for Mac OS X users to create, resize, format, delete and optimize the Macintosh Volume. It enables to effectively carry out various tasks on the Mac partitions.

In addition,Mac Partition Manager allows you to rollback any selections that you have accidentally made before performing any change on the Mac volumes. Also you can shift (upward or downward) the selected Mac volume to the desired location with the help of appropriate user controls. If there are any unused partitions in your hard drive, with the help of Delete or Format option, you can remove them, making room for a new partition. Now Mac users can manage your Mac machine partitions in a safe and easy manner.

1.Fully compatible with the Mac OS X 10.3.9 or later editions.
2.Create or Delete new partition/Volumes on Mac hard drive.
3.Resize, format, and delete existing Mac partitions/Volumes
4.Repartition Boot Drive,Repartition Without Data Loss
5.Capable of hiding/showing Mac volumes.
6.Partitioning External Drive
7.UFormat Mac Partition/Volumes and manage your partitions smoothly.







Key Features
Create Partition on Mac

Mac Partition Manager enables you to easily and safely create a new partition on your Mac drive.

Resize Mac Partition

Mac Partition Manager allows smooth & effective resizing of Mac partitions.

Format Partition on Mac

Mac Partition Manager allows you to quickly and comfortably format a specific Mac partition or volume.

Delete Mac Partition

Mac Partition Manager easy removal of any unwanted partition from the Mac hard drive taking up your valuable disk space.

Create Bootable DVD for Mac

Mac Partition Manager enables you to create a bootable DVD that can be used to boot the Mac system and perform partitioning operations on the boot volume.

Hide/Reveal Partition for Mac

You can hide or unmount a Mac partition anytime to conceal your important information in order to prevent any unauthorized or illicit access to your confidential data.

Partition Manager Mac use guides
Stellar Partition Manager is a partition management software to create, delete, format, hide/reveal, and resize partitions in your Mac hard drive.


Step 1: Free download the Mac partition tool on the Mac computer (MacBook, iMac etc). Open the application, you'll see the main User Interface like below.



Step 2: The interface screen displays a warning message after you select the boot volume of your system.



Step 3: Specify the desired volume name and size for the new partition to be created.



Related Articles